SBEnrc BIM Value: A free decision-support tool for maximising the benefits of BIM
Although there are numerous studies and articles on the benefits of BIM, it can be difficult for organisations to assess its potential value for their particular purposes. Even when they have decided to use BIM, it is often not clear how to best implement it.
The BIM Value tool was developed by the Sustainable Built Environment National Research Centre (SBEnrc) in partnership with NATSPEC to address these issues. It is based on a comprehensive methodology developed as part of SBEnrc's research Project 2.34 Driving Whole-of-life Efficiencies through BIM and Procurement. Work to improve the tool will continue over 2015 – 2017.
BIM Value is a free open-access tool that provides managers with a step-by-step guide to identifying potential benefits, metrics and tools for implementing BIM.
To find out more and access the online tool, click here.
Delivering Value with BIM
Details of the research on which the BIM Value Tool is based can be found in the book Delivering Value with BIM - A whole of Life Approach by Adriana Sanchez, Keith Hampson and Simon Vaux.
The first part of the book provides a theory base to understand what BIM is and what some of the main challenges are in measuring and realising its value. It also provides examples from current industry practices through case studies. The final chapters of this section offer a practical framework to develop a value-driven strategy to implement BIM in different types of projects by different stakeholders, as well as share insight from implementation in asset management.
The second part of the book includes a number of dictionaries. The Benefits dictionary outlines benefits found in the relevant literature, the Enablers dictionary includes definitions of tools and processes mentioned in the Benefits dictionary and the Metrics dictionary outlines metrics that can be associated with the terms in the Benefits dictionary.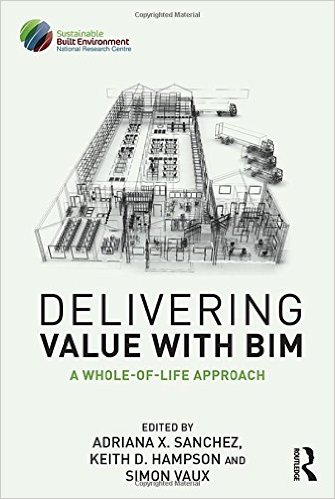 Delivering Value with BIM can be purchased from Amazon www.amazon.com/Delivering-Value-BIM-whole-life/dp/1138118990